Academic Admin & Non-Profits
I have a passion for academic administration. Despite its flaws in sometimes creating unnecessary bureaucratic red tape and disconnect with teaching or research, an effective and efficient administration can provide vital support for faculty, staff, and students. My involvement in academic administration is driven by several principles, many of which I have written both research and popular press articles to reflect on:
Academic administration is difficult to accomplish effectively and efficiently.
Higher education suffers from infrastructure-related challenges (e.g., tenure criteria, peer review process) and modern industry changes (e.g., rise in online certificates and decline in Bachelors as a job requirement) that need exceptional administrators to lead institutions through these challenges.
Industrial-organizational psychologists and management researchers can provide valuable insight on how to lead institutions, due to their unique training in both management and in higher education.
Current Role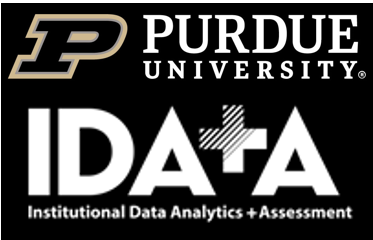 As the full-time Survey and Measurement Methods Lead at Purdue University, I oversee all of the institution's survey work (e.g., faculty and staff burnout, student well-being, teaching evaluations). I am applying my expertise in psychometrics and higher education to assess Purdue constituents based on important psychological constructs, research and establish new methods of assessment, and inform data-driven decision-making across the university. The IDA+A office in which I work supports institutional assessment and analytics across all Purdue campuses and reports directly into the Office of the Provost. Feel free to contact me to learn more or if you would like to collaborate on projects!
Prior Work
Graduate Assistant in the newly created Graduate Division in George Mason University's Office of the Provost (2022-2023): worked on institutional data visualization and project management
President of the Graduate and Professional Student Association at George Mason University (2021-2022): represented all 15,000+ graduate students and served on the University Board of Visitors, Strategic Steering Committee, and more
Other Involvement
Outside of my primary roles, I regularly provide both paid and pro bono consulting with non-profits, primarily in the areas of data analysis, research, and project management. Since beginning in 2020, I have provided around 340 hours of paid consulting services to clients such as Heterodox Academy, the Barna Group, a counseling education start-up, and a local public high school. Please contact me if you are interested in consulting in these areas.
My pro bono work is usually with non-profits dedicated to improving higher education. Some examples are described below. We are always looking for new partners, so let me know if you are initiated in any of these, or if I can assist in your initiatives in any way!
Project SHORT
Comprised of volunteer professional health and graduate students, residents, faculty, and post-docs, Project SHORT (Students for Higher Education Opportunities and Representation in Training) is the first 501(c)(3) nonprofit to offer pro bono mentoring for both professional health and graduate school admissions. By offering free, high-quality mentorship, Project SHORT aims to help diversify the pool of highly qualified applicants applying to graduate and professional health schools. As a Board Member and Director of Finance & Administration, I oversee the organization's finances, succession planning, and 501(c)3 application and approval process. We are currently looking for new volunteers; please contact me if you are interested!
The Academic I-O
My colleague runs the Academic I-O, a consulting firm that provides data-driven strategies to higher education institutions to solve complex organizational issues. Our goal is to bring insights from industrial-organizational psychology to informing and improving academic administration. Please contact us if you are interested in booking a consultation, assisting in the initiative, or presenting on your expertise!
CatchAFire
CatchAFire is a platform that matches volunteers to non-profits based on the skills that volunteers have and non-profits need. Through CatchAFire, I have provided pro bono consulting to several education-related non-profits primarily in areas of data collection and analysis, leadership development, and market research. I encourage fellow experts to join CatchAFire as a volunteer and non-profits to post volunteer opportunities on the website!